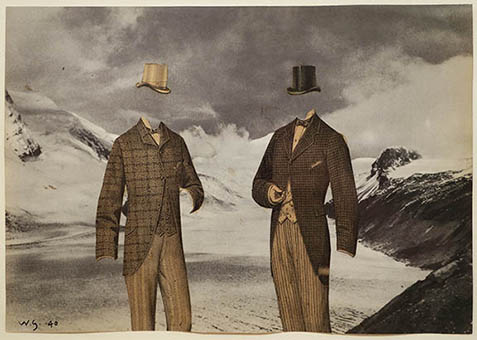 How many readings can one get from a piece of art?
Probably, as many as there are individuals who experience it. But when it comes to collage, the observational possibilities are limitless. This is what we are sure you'll find if you go to Chelsea's Pavel Zoubok Gallery for an two amazing exhibits featuring the work of  collage artists Ivan Chermayeff and Witold Gordon from March 19 until April 19.
[slideshow_deploy id='43733′]
Ivan Chermayeff (1932) has the ability to take the ordinary and turn it into the extraordinary. His collages elevate images of  daily life to the status of art. His compositions are the result of a perfect equation of the playful plus the poetic. You can see that in his new exhibition, "About Faces."
The artist is renowned for being the co-founder of Chermayeff & Geismar, one of the most iconic design agencies of the 20th century. As a fine artist, his work has been seen in Turkey, and around the United States from Connecticut to Washington D.C. to New York's Cooper Union school of design.
[slideshow_deploy id='43743′]
Witold Gordon (1885-1968) is a renowned illustrator and another author of some of the most amazing collages of Surrealism and Magic Realism. His exhibition, called "Nobody," features his collages from the 1940s. One riveting series features the artist playing with the spectral presence of disembodied males and mysterious atmospheres to capture the interwar period and the artist's isolation during the war in its most poetic and disturbing way. Gordon escaped from his native Poland during Europe's political upheaval of the early 1900s.
His artwork has also been featured at the Museum of the city of New York collection. He also illustrated the official poster for the 1932 Olympic Winter Games and many covers of The New Yorker, Fortune and Vogue, among others.
For more information about the exhibits, go to: Pavel Zoubok Gallery
—Xavi Ocaña