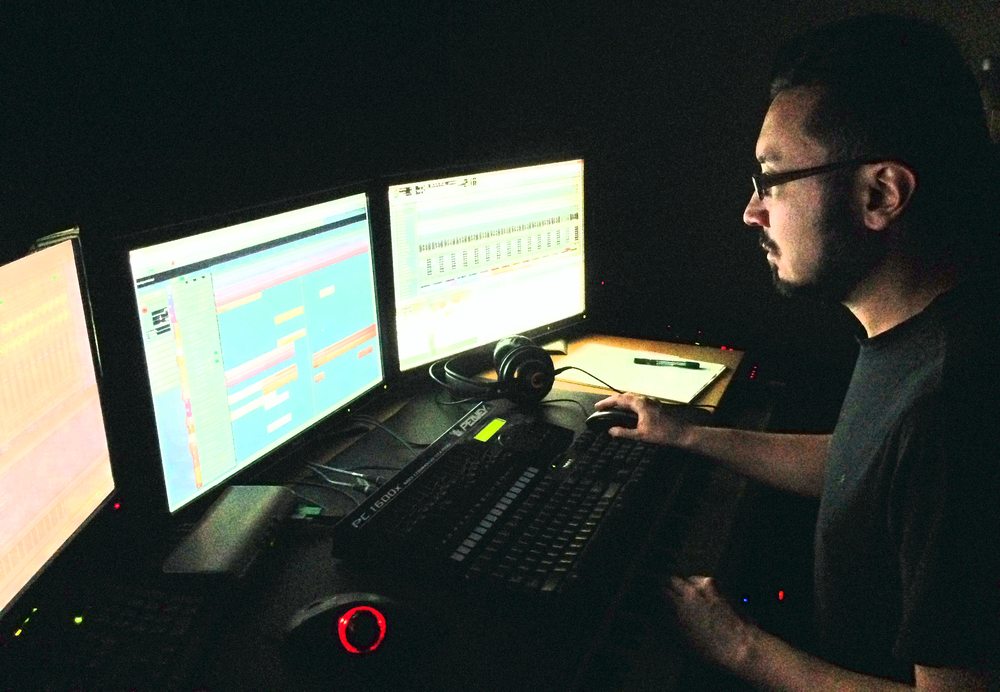 When it comes to the quality of a movie, most viewers tend to praise (or blame) the people involved with the writing, director, acting and/or editing. In turn, the unsung hero (or villain) of many films is the composer of its score. After all, what would a blockbuster film series like Star Wars, Jaws or Back To The Future sound like without its legendary theme or famous musical cues?
As an established composer for film and television, Edwin Wendler is very aware of his role in the background. Recent credits of his include music arranging on blockbuster movies such as X-Men: Days Of Future Past and Little Fockers, as well as composing additional music for Non-Stop. However, Edwin scored three horror-oriented movies, all currently released in select theaters and on VOD: I Spit On Your Grave III: Vengeance Is Mine, Unnatural, and the segment "Friday The 31st" in the anthology movie, Tales Of Halloween. Two of these three new releases have accompanying soundtrack albums: Unnatural through Varèse Sarabande Records and Tales Of Halloween via Aleph Records. An album for I Spit On Your Grave III is currently in the works.
Edwin kindly tackled some Q&A for Downtown, answering a number of questions about everyday life as a composer. While much of his recent work has been horror-related, Edwin actually was a Vienna Choir Boy in his childhood – which gave him his first exposure to Manhattan – and has also written music within the hip-hop and ballet worlds. Ultimately, more can be learned about the Austria native via his official website: http://www.edwinwendler.com.
As a former Vienna Choir Boy, did you ever perform in New York City?
Edwin Wendler: Yes, twice, in fact: in 1987 and in 1988. As an Austrian kid, I was absolutely bewildered by the phrase, "The Big Apple."
What do you remember about your first-ever trip to New York?
E: I'll always remember first seeing the Manhattan skyline. I was mesmerized. We all were. There's nothing remotely like it in Austria. I remember that it rained quite a bit. I also remember seeing several ads for Broadway shows, which I thought was very cool.
Do you feel that there are any misconceptions about composing for TV and film?
E: Of course, there are. Thank you for making a positive difference by reporting about film music! Some people assume that composers take pre-existing music and make it fit to picture, which sounds more like the job of a music editor. Others don't know how much, or how little, time it takes to compose original music for visual media. It usually takes around two to eight weeks for a movie.
Did you ever play in a band?
E: Well, while the Vienna Choir Boys are not a "band," many of the same rules apply: You have to perform with others, and thereby learn to blend with the group. You tour a lot, and you spend an inordinate amount of time on buses with the same people every day. You even have some devoted fans.
Besides traditional composing for TV and film, have you ever considered writing for other artists?
E: I have collaborated with other artists, which is wonderful. You can't help but see things from a different perspective, and it can be very rewarding to witness the creation of something that you would have never been able to create just by yourself. I have written music for a rap artist, a ballet dancer, a graphic designer, a poet. Each one of those collaborations means something special.
Is there a project you've worked on that you're most proud of? Or at least that you mention first when someone asked what you've done in your career?
E: Each artist feels that certain works express their inner soul better than others. I had a lot of creative freedom writing my cantata, Consolatio. The piece ends with a heart-felt melody which appeared in my mind one day, fully-formed. I was very happy to write music for my best friend's wedding, which was absolutely magical because everything timed out perfectly, without any rehearsals, and the music was a very important part in making that day so special for my friends. In terms of film music, I always love writing long melodies, which I was able to do on Christmas With A Capital C and Escape. I am also very happy with the way Unnatural turned out. The client was very happy, and I truly enjoyed every step of the creative process.
You currently have three movies nearing release: I Spit On Your Grave III: Vengeance Is Mine, Tales Of Halloween, and Unnatural. Were you always drawn to scoring horror movies?
E: It's all fortuitous timing, I guess. Those three projects just happened within the same time period. They are somewhat interconnected in how I got to score them. I have to thank cinematographer Marc Carter for recommending me to Hank Braxtan, the director of Unnatural. I had worked with Marc, years earlier, on a couple of short films, and he remembered me. It is so important to put your heart and soul into your work because eventually, after a lot of false starts and a lot of rejections, somebody will notice and will help you along the way.
When writing music for a movie like Tales Of Halloween, do you have to be in a certain mindset? Does your studio or writing space have to carry a darker vibe to it?
E: Composing is very similar to acting because you are acting out your inner emotions, musically. The emotions must feel real to you in order for them to translate successfully into music. I just need memories and empathy to get myself into that mindset. The environment can even be contradictory to what I'm working on.
Do you watch a lot of horror movies aside from work?
E: Probably not more than the average, passionate movie fan. I am a big fan of John Carpenter's work. As a teenager, I would watch his The Thing repeatedly, rewinding it in order to figure out how the visual effects had been done. What I love about horror movies is that the best of them reflect our most basic fears, but they do so in the most creative, unusual ways. It's the same quality I love about fantasy and sci-fi movies.
Are there any upcoming projects of yours that you can tell me about?
E: I tend to be very superstitious about works-in-progress. So many things can go wrong before something gets released. Frequently, even when a movie gets completed, it just sits on hard drives somewhere, never to be released to the public.
When you're not busy with work, how do you like to spend your time?
E: What I love most, besides composing, is spending some quiet, quality time with my fiancé and with good friends. It sounds kinda corny but it really is true that the simplest of things can bring the most happiness.
Finally, Edwin, any last words for the kids?
E: Don't let others convince you that you're weird and therefore useless. All of us are yearning to feel passionate about something. If that something happens to be horror movies or something "weird," it's worth embracing it. In the process, you may find out that you are among the most rational, or even among the most kindhearted people out there.
-by Darren Paltrowitz