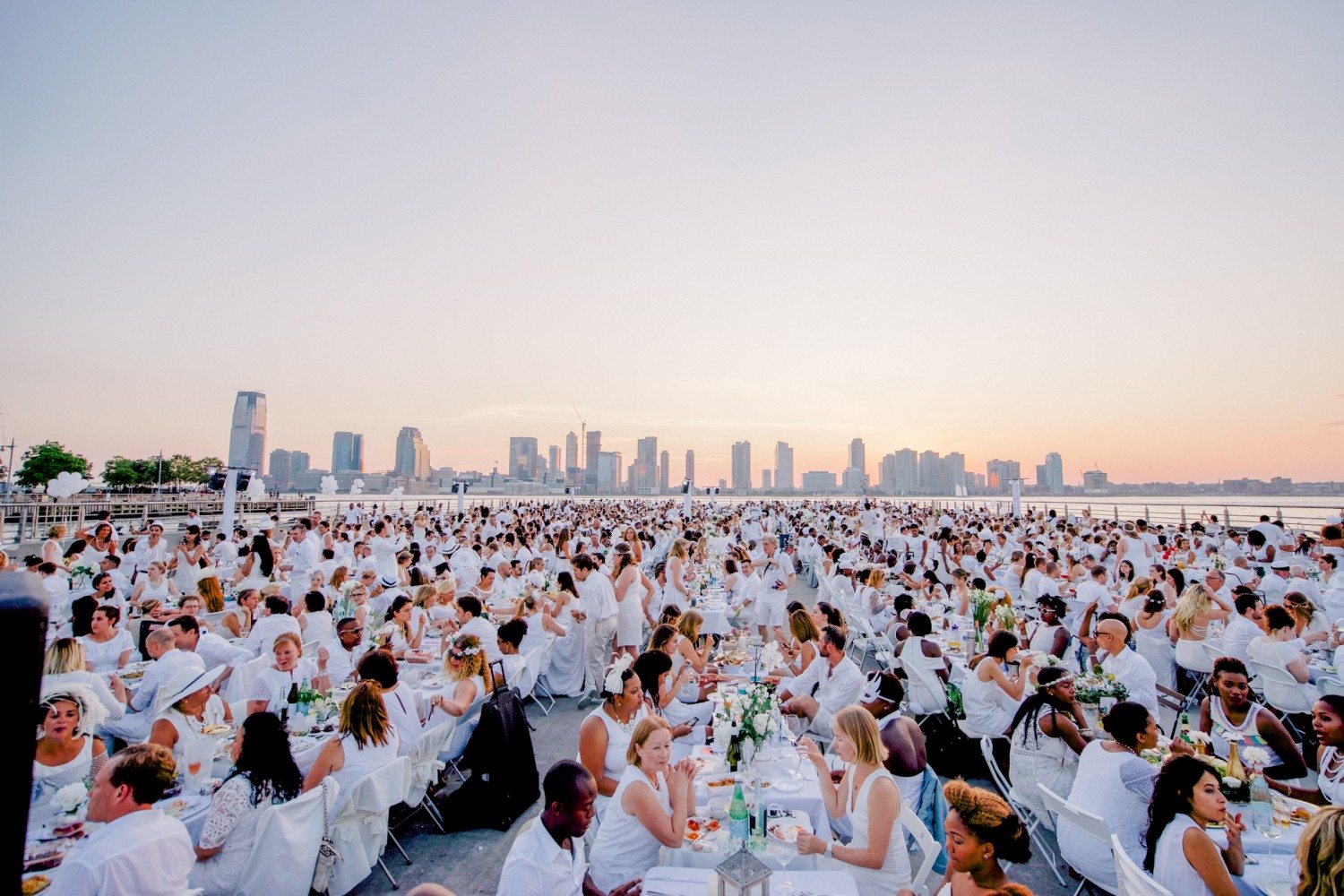 Downtown's own CEO/Publisher, Grace A. Capobianco, details her experience at this year's Dîner en Blanc: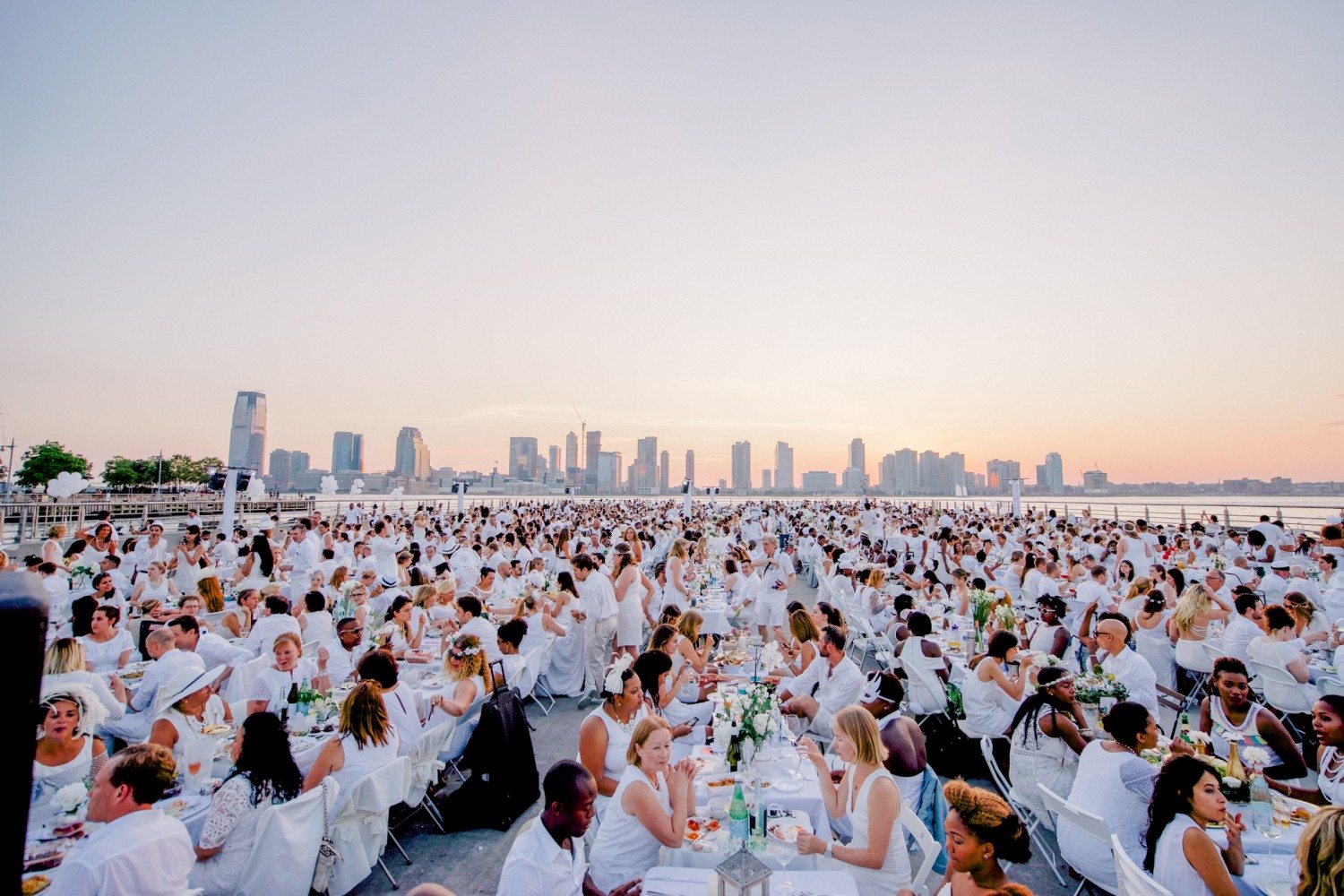 The highly anticipated Dîner en Blanc was held on July 28 at Pier 26 along the Hudson River. The chicest pop-up picnic from Paris returned for its fifth year. Over 5,000 guests gathered together on one of the year's most humid summer evenings.
Obtaining an invite is not easy; a waitlist of over 30,000 eager fashionistas, foodies and wine enthusiasts waited with baited breath. Mere registration doesn't secure a spot, for you must be in the know to secure a table pour la nuit!
La piece de la resistance is that although prospective attendees have booked their night and anticipate the dinner to come, no one knows of the dinner's location.
It is only until the date of the Dîner en Blanc that the location is revealed.
The evening celebrates French elegance, etiquette, heritage and friendship, all joined together by a single organization.
Downtown Manhattan has been the host of the event the past two years.
Downtown is the perfect place to celebrate all that Dîner en Blanc represents; the resurgence of downtown is demonstrated by so many features: its beauty, open space, and beautifully manicured parks.
Yet, to top all of the evening's grandeur, the One World Trade Center provided the perfect backdrop. It towered over the robust affair.
To my delight, I had the pleasure of being invited again this year.
The costumes, hats with feathers, exquisite theatrical makeup, Marie Antoinette wigs, and Baroque masks reminded me of Studio 54 on any given night.
My stunning white cocktail dress from La Petite Robe by Chiara Boni was styled by Rachel Wirkus. Hairstylist Nordia MacIntosh delicately tucked up my hair in preparation for the steam bath that was the evening. Even my skin had the ideal glow thanks to makeup artist dnicole.
I can only describe the evening as extraordinary.
You can give me tickets to the theater, but I would still choose a creative fabulous dinner party with friends and family.
It was a perfect match for my desires.
The Dîner en Blanc is unrivaled. You are out in the open, in the fashion that all summer parties should be. It is an event that celebrates friends, family, delicious food and fine wines and champagnes.
There is a beauty of having glorious cities as the canvas for the Dîner en Blanc. From the moment you arrive at the secret location until the last second you are packing up, it is remarkable.
I had the pleasure of interviewing one of the co–founders of the Dîner en Blanc, Aymeric Pasquier, a week or two before this year's event.
In the summer of 1988, Pasquier had just returned to Paris after a few years abroad, and held a dinner party to reconnect with old friends. So many wished to attend that Pasquier had to ask them to convene at Bois de Boulogne, and to be dressed in all white, so they could recognize one another. Each attendee was also asked to bring a friend.
The evening was such a success that guests wanted to include more of their friends the following year, and thus was born the concept of the Dîner en Blanc.
Pasquier and Sandy Safi then came together in 2011 to create the International Dîner en Blanc Organization. Its objective would be to promote the history and philosophy of that legendary summer soirée in 1988 through hosts worldwide, and to create an international network of dinners and Dîner en Blanc enthusiasts.
After its first successful dinner in New York City, countries have been quickly lining up to become a host of this stupendous event.
This year, around 62 cities in more than 35 countries have or will host a Dîner en Blanc.
During our conversation, Pasquier could hardly contain himself when sharing the news that Dîner en Blanc has quickly expanded from Paris to Johnannesburg, to Montreal and Tokyo.
"It's not stopping there," Pasquier happily added. "About a hundred cities have joined a waiting list."
Is it possible that just like cities waiting for a chance to host the Olympics that the Dîner en Blanc can acquire international prominence?
Pasquier and his partner said they have solid plans to grow the event to an even larger scale.
So, what exactly entailed my evening?
In the spirit of that first summer night in 1988, guests were brought together at a designated meeting location in TriBeCa Park. Yet, at that moment, people still didn't know of the actual dinner's location.
The secret was still hidden.
Once guests arrived at the park, they set up their table and chairs until it was time to pack up and leave. Organized in long rows, the tables closely touched one another, creating an intimacy amongst all the attendees.
When the time had come to leave to the dinner's location, the guests packed up and walked to together to the dinner's location, Pier 26.
Unity was the evening's motif: the required white attire created a singular identity for the guests, as did their movements through the city, carrying their table, chairs, baskets, linens, fine china and crystal.
Please do not arrive with paper plates, cups or plastic flatware – Ah non! Pas du tout!
The Dîner en Blanc is a time of elegant refinery.
As the Downtown team made their way through the city – sometimes stumbling with our gear – non-diner guests photographed us. Curiosity had drove them to become paparazzi. They asked if the event was a wedding, and whether they could attend. Others wanted to know if they could purchase our invitation and gear.
We laughed and continued on our journey, for excitement awaited by the pier's water.
Celebrity Cruises sponsored this year's dinner, and gave the opportunity to win a free cruise based on the best table setting. The competition was strong with many extravagant tables to choose from.
One might think that an Epicurean degree or one in dining table design is not necessary, however, it's surely comes in handy when strategizing for your special design for Dîner en Blanc.
Designing a laid table can be as fancy as a foyer in your maison d'été.
This year, as they do every year, the guests went all out.
We enjoyed witnessing candelabras larger than the actual 30 by 30 table, and linen tablecloths that are right out of Bergdorf Goodman.
There were hanging trinkets, which were reminiscent of New Year's Eve. Beauty was also found in small intimate votives with elaborate flower arrangements.
Our neighbor for the evening (a trained chef) created an entire centerpiece around their homemade strawberry rhubarb pie and gourmet bucket of buttermilk fried chicken, accompanied by delicious buttermilk biscuits.
Trust me, in Battery Park, this bucket of delicious chicken could be sold for $45.
Worship Luxury graciously provided my table with a beautiful floral table arrangement that contended with the other arrangements that night.
Once all guests were settled, the traditional announcement is made to wave their napkins in the air to acknowledge the beginning of the spectacular evening.
Guests could purchase a catered meal by celebrity Chef Todd English. This was English's second year as chef to Dîner en Blanc. Guests also had the option of bringing their own cuisine, and/or to reach out to their favorite local chef to prepare a delectable meal.
I chose to have our food prepared by a dear friend and one of the magazine's favorite chefs, Chef Raffaele Ronca, owner of Ristorante Rafele. We dined on homemade Paccheri All' Amatriciana, Branzino Alla Griglia and a side of the chef's distinct roasted potatoes with rosemary and Himalayan salt. For dessert, the chef included his famous homemade cheesecake – a must to end any meal.
A descendant of Naples Italy, Raffaele specializes in cuisine that is sure to be the best Italian food on this side of the Atlantic. As this was a working event for our team, drinks were not on our menu. But rather our after evening was complimented by an imported bottle of Conegliano Valdobbiandene Proseco that I received while I was in Italy for 2015 Vino in Villa.
The evening was in full swing after dinner once guests began to dance under the summer stars.
Aside from the magic and memories that were created this one summer night, I must say that the hallmark of this year's Dîner en Blanc was that New York City was brought together in only the best location – Downtown.
– by Grace A. Capobianco