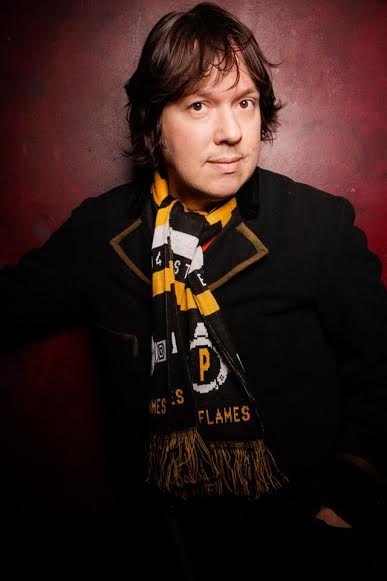 Dave Hill is one of those performers who five people may recognize from five different projects. A lot of people know him as a stand-up comic, for which Variety called him one of their "10 Comics To Watch" a few years back. Plenty of people know him for work as a songwriter and musician for bands including Diamondsnake (alongside Moby) and Valley Lodge (more on them below), beyond playing bass for Lucy Wainwright and guitar for Rival Schools' Walter Schreifels. Others know him as a host within the TV, radio and podcast formats. Surely, some folks know him as a result of his St. Martin's Press-published collection of essays titled Tasteful Nudes.
No matter how the form in which the very-funny and extremely-productive Dave Hill is most recognizable to you, he is participating in this year's Brooklyn Comedy Festival. He will be appearing alongside Sean Patton and Janelle James – to name a few – at The Knitting Factory on Friday, August 28th. Per the event's website, tickets are $5 cheaper when bought in advance.
Dave kindly took some time to answer questions for me on behalf of Downtown.
What should be expected from your performance on August 28th at The Knitting Factory?
Dave Hill: I will be melting people's fucking faces off with words. There will also be a meet and greet in the bathroom at some point. People are going to have to call in sick to work for days, maybe even weeks afterward. I think everyone will have a really nice time they would recommend to others.
Do you have a definitive way of describing your stand-up?
D: I mostly just talk and sometimes rip a couple sweet guitar solos while I'm at it if I feel like carrying heavy things to the show. Other than that, I like to leave it up to the people to describe it and hope they don't hurt my feelings or use too much profanity in the process.
Beyond stand-up, you're known as a real-deal guitarist and songwriter. I've seen you play live in Walter's band and have heard Valley Lodge recordings. Are all of your comedy fans available of your musical life and vice versa?
D: I think some people know and like the music and comedy stuff. Usually people who know about the comedy first assume my musical stuff is mostly comedic, like "Weird Al" Yankovic — whom I love — or something, but it's actually fairly straight-forward rocking done by me and other guys in tight pants. But over the last few years, I've been incorporating more guitar into the comedy shows, so people have come to expect it a bit more, I guess. I like playing the guitar at comedy shows because it means I don't have to talk as much. Also, it's nice to have something covering my junk while I'm on stage, just for emotional reason mostly. I wrote the theme song to Last Week Tonight with John Oliver, which is a song by my band Valley Lodge called "Go." I think that's made more people aware of the music stuff in addition to the comedy too. And if a friend's band is coming through town, like my buddy Phil Anselmo's band Down or Superjoint Ritual, I'll usually take my shirt off and jam with them at some point during the show, so that's always fun. The guitar-playing is the music part and the shirt off is the comedy part. Unless, of course, you're into soft, pasty dudes — then it's Make Out City, population: you and me.
And beyond the stand-up and music, you're a podcaster, a TV host, a radio host, and a published author. When someone asks you what you do for a living, what do you usually say?
D: Sometimes I like to just say "entertainer" because it makes me sound like Wayne Newton or something. Or I'll say comedian, writer, and musician because that pretty much explains it. But even my close friends don't know how to describe what I do. Maybe "sexy, sexy drifter who would very much like to come over your house" best sums it up.
Once the comedy festival is over with, what's ahead for you?
D: I'm finishing my second book, another collection of essays, which will be out next year on Penguin/Blue Rider Press. And also my buddy Rich Fulcher from The Mighty Boosh and I are shooting a pilot for Universal that Steve Carell is producing. It's gonna be a scorcher. I'm pretty excited about it. Other than that, I am plotting and planning a few other incredible things, taking care of my new puppy, trying to get more fiber, and ripping sweet guitar solos around my apartment.
Finally, Dave, any last words for the kids?
D: Get tested, kill the Internet and call your parents. Also, please buy my debut comedy album Let Me Turn You On, which came out in June on ASpecialThing Records. That would be so, so great. For everybody.
-by Darren Paltrowitz