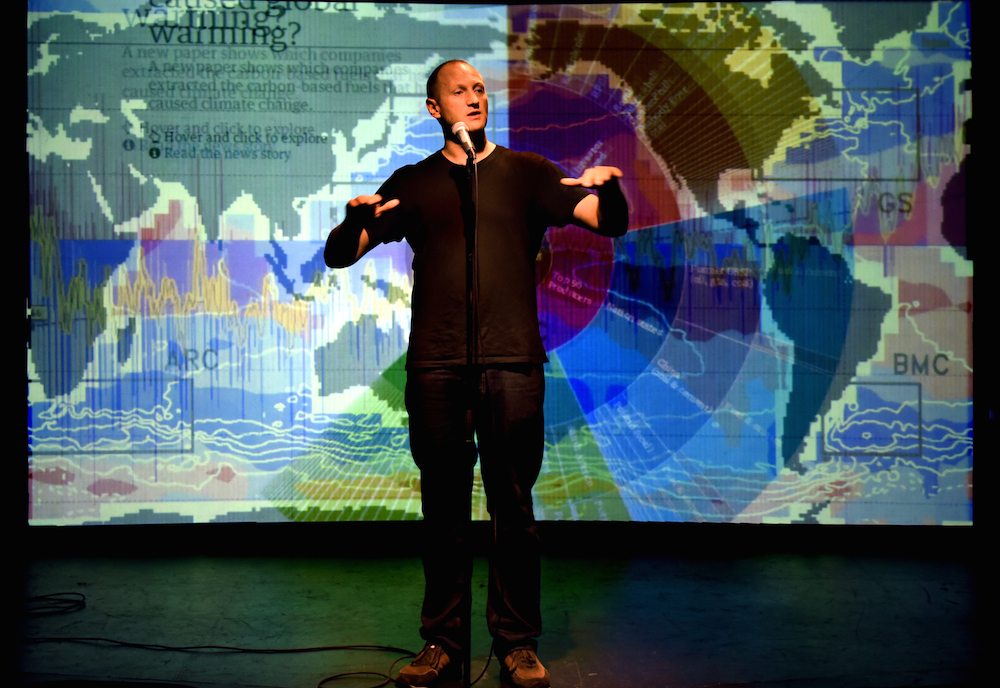 A New York transplant by way of British Columbia, Baba Brinkman is an original, informed and prolific artist. Baba first got a lot of attention with his one-man show, The Rap Canterbury Tales, which premiered at 2004's Edinburgh Fringe Festival. A modern re-telling of the Canterbury Tales with hip-hop influences – preceding Hamilton by years, yes – this would not be his only foray into what many call "Lit Hop." Following the publishing of The Rap Canterbury Tales as a paperback, Rapconteur premiered in 2010, including hip-hop adaptations of Beowulf, the Epic of Gilgamesh and the Finnish Kalevala.
Baba's creative output took a more scientific direction with 2008's The Rap Guide To Evolution. Winner of a Fringe First Award, the show received acclaim from TV host Rachel Maddow, physicist Stephen Hawking, and paleontologist Jack Horner alike. Shows about human nature, medicine and religion were also popular. Baba's latest, The Rap Guide To Climate Chaos, is currently playing at the SoHo Playhouse through Apr. 24, with performances from Wednesday through Sunday each week.
Downtown had the pleasure of speaking with Mr. Brinkman –- who launched Climate Chaos in Manhattan on Feb. 25 -– in the midst of his residency. In addition to the info found on his official website, Baba can be followed on Twitter.
How'd you choose the SoHo Playhouse for your new show?
Baba Brinkman: The SoHo Playhouse artistic director Darren Lee Cole played a major role in bringing the show to fruition. I brought it to him as an idea about a year ago, before I even had a script, and he worked with me to direct and produce it and workshop various drafts. It was really a collaboration from the ground up. I chose the SoHo Playhouse both because I love the space and also because I've worked with Darren in the past and appreciate the directing talent he brings to the table.
Had you attended anything at the SoHo Playhouse prior to booking your first residency there?
B: This is the fifth show I've had produced at the SoHo Playhouse in the past five years, but when I first started there with Rap Guide To Evolution in 2011, I rehearsed and performed in the space before seeing anything else there. So it was definitely just an appreciation of the intimacy and old school charm of the place that drew me at first.
How would you describe the Rap Guide To Climate Chaos to someone not yet familiar?
B: Imagine how much fun it's possible to have while confronting the threat of a looming global crisis, and it's more fun than that. The show is all about the causes and consequences of global warming, and what we can do about it, but it feels more like a cross between stand-up comedy and a rap concert rather than a lecture.
Ideally, what message do you want the audience to come away with after seeing the show?
B: I want audiences to feel the urgency and risk involved with climate change, the personal stakes and the scale of the problem. But I also want them to be energized to take action and push for solutions, especially policy-level solutions. One of the reasons we've been so slow to respond to climate change, is that people are resistant to pricing carbon and using market instruments to help reduce greenhouse gas emissions. I want them to take a close look at those ideas and make an informed choice, and I hope I can get a few more people to consider something that has so far been unpopular but is really the only viable way forward.
Was there a particular artist or album that inspired you to make hip hop that was smart and/or educational?
B: It was a combination of different artists who were bringing really thoughtful lyrics: Mos Def and Talib Kweli, The Roots, A Tribe Called Quest, Blackalicious, Atmosphere, De La Soul. There has never been much good hip-hop out there that is overtly-educational, but there are lots of very smart rappers who drop knowledge in their songs. So in a way, I'm trying to do something that no one has pulled off before. Whether I'm actually pulling it off or not depends entirely on how people respond and how far my music reaches.
When Leonardo DiCaprio gave his climate-related speech at this year's Oscars, did your phone start going off immediately?
B: I had a number of people reach out and say "did you hear that?!" for sure, and I was proud to hear climate shouted out from such a major platform. The more mainstream climate awareness becomes, the better chance we have of averting disaster.
What's the worst butchering of your name that you've seen in a publication? Anything related to Bababooey, Giant Baba, or Baba O'Reilly?
B: The one that irks me the most is Bubba — don't go there.
I hear that you'll be putting out an album version of the show at some point. How do the album and show compare?
B: The album and the show contain the same collection of songs, but I rewrite the lyrics for the album since there are lots of scenes in the show where I'm addressing the audience directly and interacting with them in a way that doesn't translate to an album. I'm also collaborating with some amazing singers, musicians, turntablists, etc., who are bringing a new level of soul and hip-hop flavor to the album. It's in production right now and I'm aiming to release it this summer.
Once you're done with your New York City run, what's ahead for Baba Brinkman?
B: I'm getting some tour bookings for Rap Guide To Climate Chaos right now, so I'd love to take it around the country, especially in an election year. I'm also working on a new show about Artificial Intelligence that I hope to unveil soon.
Is another New York City run possible?
B: I hope so! First thing's first, which is to get as many people as possible to come and see Climate Chaos while it's still playing.
When you're not busy with your career, how do you like to spend your free time?
B: I have a two-year old daughter, so when I'm not working I'm mostly spending time with her and my wife. Having a child really drives home the generational inequity of climate change as well. We're causing the problem, and they will have to deal with the fallout.
Finally, Baba, any last words for the kids?
B: Ask your parents what they are doing about climate change, and let them know why it's important to you. And pay attention to science, because without it you really won't understand what's going on.