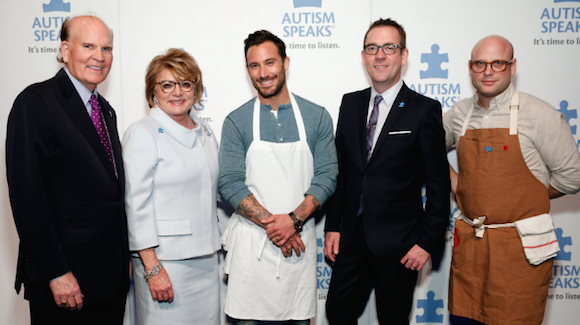 Last night, Cipriani Wall Street was buzzing with excitement as Autism Speaks to Wall Street kicked off the 8th Annual Celebrity Chef Gala. One hundred top chef's from around the country created four-course meals table-side while Autism Speaks co-founders Bob and Suzanne Wright and President Liz Feld shared personal stories, astounding facts and raised awareness about how autism affects 70 million people worldwide.
But awareness wasn't all they raised last night. Between the silent auction, the live auction hosted by culinary MC Billy Harris, and various companies and individuals stepping up to match donations and bids throughout the night, more than $1.3 million was raised for the cause.
It was a powerful and touching evening. Many of the chefs wore Google Glasses throughout the night which not only gave us a bird's eye view of the cooking, but also reminded us of the amazing and generous collaboration happening between Autism Speaks' MSSNG Campaign and Google to find answers to why one in 68 children, and one in 42 boys, are currently living with autism.
The evening, hosted by Ted Allen of Food Network's Chopped, featured a performance by Tony Award winner, Nikki M. James of the Broadway revival of Les Misérables.
DOWNTOWN Magazine was lucky enough to sit at The Meatball Shop's table where chefs Daniel Holzman and Michael Chernow cooked up a feast of poached mortadella and beef meatballs with braised kale, tangerine, fennel and basil salad, roasted apple, chestnut, soap and dessert, but who has room for that after those incredible meatballs?
-Nicola Harrison Ruiz* 
-Photography courtesy of Cindy Ord/Getty Images for Autism Speaks
*Nicola Harrison Ruiz is the Men's Fashion & Lifestyle Editor at DOWNTOWN Magazine. She is also the founder of Harrison Style – a men's style consulting business. If you want to take your style up a notch or figure out what to wear at your nest big event, you can find her at http://www.harrison-style.com.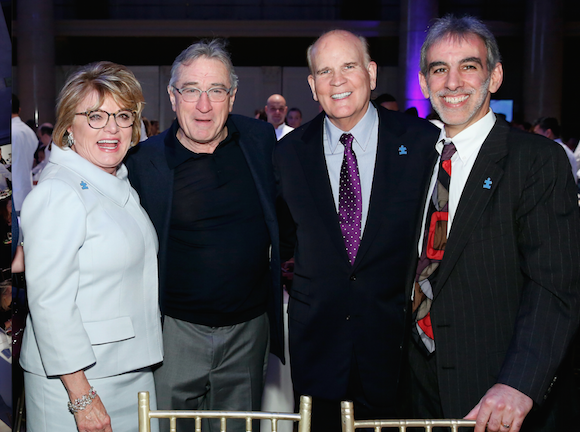 Suzanne Wright, Robert DeNiro, Bob Wright, David Glazer
Host of the evening, Ted Allen
Chef Spike Mendelsohn got to try out Google Glass
 Celebrity Chef Gala at Cipriani Wall Street